Insightly: Customer Service & Your CRM System
Customer Service and Your Customer Relationship Management System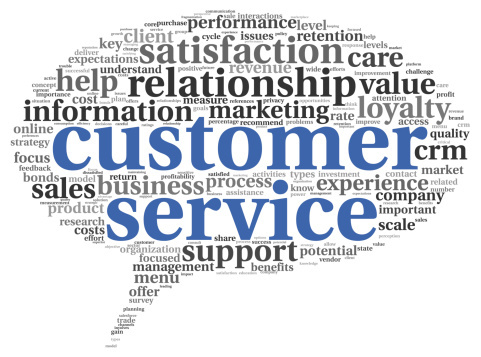 Customer Service: Exceptional customer service can help any business build a positive reputation.
Great customer service is essential to the success of any business. But let's be honest: customer service has sorely lagged in most sectors of the economy. Why?
As any small business can attest to, customer service is the most important aspect of any company's business model. One way to compete with the larger businesses in today's economy is to provide exceptional customer service, whether it's product fulfilment, client interactions or customer inquiries.
When the customer service element of the business is handled correctly then the enterprise can reach their sales objectives and quarterly goals. Maintaining high-quality customer service can be accomplished through a customer relationship management (CRM) system, an important trend for most small and medium sized businesses.
A CRM assists the organization in retaining customers and improving client relations. Whether the business has only several customers or thousands of clients scattered all over the world, a CRM can be an integral system for management and the overall workforce in relation to an array of daily business functions, such as organization, automation, marketing schemes and sales.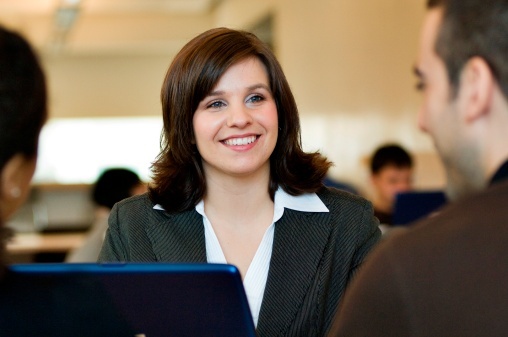 Salesperson: A sales team member can effectively communicate with a potential customer with the help of a customer relationship management system.
The Methods and Successes of CRM
Here are several ways in which a CRM system can improve the functions of a business and produce successes:
Analyze the customers' experience from beginning to end in all facets of the sale. From the initial sale to the delivery of the product or service, a CRM can help a small business understand how the client viewed the entire journey.
Track and manage customer purchases and scheduled contacts through the phone, email or social media. This creates customer loyalty and retention because the client feels important.
Peruse customer history and preferences. This allows the sales team to understand the prospect a lot more in terms of what they have purchased before, their economic situation, what their interests are and what exactly they prefer when it comes to a product or service.
Study data to complement customer service. This can serve as a tremendous aid for call centers and other staff members without having to be mistaken and refrain from guessing what the client wants or needs.
Survey the customers following a sale. This gives the company an opportunity to discover what they can do better next time, what isn't working and how their relations are viewed.
Produce online communities to publish content, create engagement, offer support and attain ideas and suggestions from customers. Feedback always helps a brand.
Observe office collaboration. The CRM system provides the chance to share visions of the business, sales goals, perspectives of current customers and future prospects and solutions to common problems.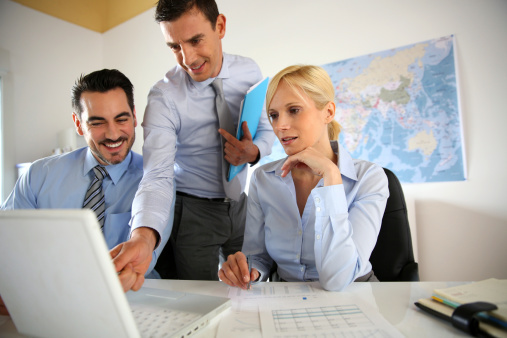 Staff: A customer relationship management system can create collaboration and offer extensive data on clients.
How CRM Should be Used
Each workday, a CRM system must be integrated into various product lines and company departments. If the business has a poor CRM system then it can certainly result in diminishing revenues, especially considering that customers can easily air their grievances and dissatisfactions on the Internet for the entire world to see.
Remember, one business's loss is another's gain. In other words, small businesses need to establish a dependable customer relationship management system. Otherwise, companies neglecting this feature will immediately notice declines in sales and revenues, while their competitors will benefit. Any small- or medium-sized business can take advantage of a CRM system.
Overall, a CRM system for small businesses is an effective aid for success, particularly during "moments of truth," a term to describe an encounter with a customer that can revise their perception of the company. This is the moment of truth to determine if expectations have been met, exceeded or disappointed.
Businesses should implement a standard of over-delivering. Rather than continuing with business as usual, CRM solutions help ensure there is continuous improvement and that results in better customer service.
Don't allow your competitors to stay ahead of you; incorporate customer relationship management software into your business model soon. You can sign up for a free Insightly account today or try out a full-featured 14-day trial of our premium plan.
Andrew Moran is a full-time professional writer and journalist, who covers the areas of business, economics and personal finance.